Magnet Turret is a turret in Portal 2 Episode 1. When it opens, it shoots magnetic waves that attract metalic objects to the turret. This turret cant attack, but the flying metalic objects may hit you.
Information
Edit
Size: The same as a Sentry Turret.
Shooting speed: 1 magnetic wave per second. (2 if counting the 2 "arms".)
Eye/Laser color: Eye is a lemon. Eye color is lime with light yellow-green. The laser color is dark lime.
Projectile Wide: About 1,3x the size of Chell.
Projectiles per volley: 2.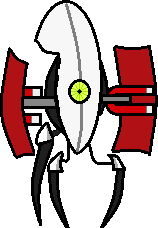 Projectile appearance: A transparent-white ring.